| | |
| --- | --- |
| Q. | A. |
| Are the French anti-American? | No, they're pro-French! Seriously speaking, the French are "damned if they do" and "damned if they don't". If they disagree with U.S. policy, they are seen as anti-American. If they agree, they are seen as valets of U.S. imperialists. What a conundrum! Felix Rohatyn, former U.S. ambassador to France said recently : "The anti-Americanism today encompasses not a specific policy like Iranian sanctions but a feeling that globalization has an American face on it and is a danger to the European and French view of society. There is a sense that America is such an extraordinary power that it can crush everything in its way. It is more frustration and anxiety now than plain anti-Americanism." For more : click here. |
| Why are the French so cold (or arrogant or distant) ? | In the absence of any relationship, silence is neutral (in the street, in an elevator, etc...). Franco-American anthropologist Raymonde Carroll writes: "It is indeed in public places that Americans in France for the first time have the experience, at times amusing, but often unpleasant and even painful of cultural misundrestanding. They feel rejected, disapproved of, criticized or scorned without understanding the reason for this "hostility" and they can only draw one of two conclusions : the French hate Americans" or the French are cold (hostile / unpleasant / arrogant / despicable)"... This is essentially due to the fact that Americans and the French do not attribute the same meaning to verbal exchanges.... together in a limited space ...the French person will recreate distance with silence, the American with conversation..." . For most French, Americans are over-communicative and too familiar and they are always very disappointed to see that this American who was so nice and friendly does not even remember their name. For the French, if you are not a friend, you must be not cold but neutral. If your are socially too friendly with them, they think you are unsincere.... See also Pascal Baudry who gives a psycho-analytical explanation of it and read what Roman authors wrote about the Gauls. |
| | When they disagree, the French express it verbally much openly than Americans, who are more controlled and they are not at all afraid of a verbal fight. They even enjoy it. One of the best explanations for this was given by Nick Yapp and Michel Syrett in " Xenophobe's Guide to the French " . It's simply a factual matter. The French, they point out, are rude when they want to be. Their rudeness is neither unthinking nor forgetful, they say. They're rude when the occasion warrants it. Are they rude only to innocent foreigners ? Of course not ! " Among friends ", write Yapp and Syrett, " insults are also frequently traded, but with no permanent damage to the relationships. Quite a different case from England and the U.S. where if you get to that level, the friendship is condemned for life ". The point of all this is that if foreigners freak because they detect rudeness, irony, or a slight, they should feel flattered. They're being treated as if they were French !. A typical situation where Americans consider rude a Frenchman who is sincerely surprised by this reaction is the case of an instructor who treats you as if you were a French student, whatever the money you paid. Read more about it. Body language, which is very different, may also explain why Americans often consider rude a French person when he/she is not. The French love to bawl each other out ("s'engueuler") and it can be just a game and in any case totally harmless : Americans hate it and consider it rude. |
| During the German Occupation, why did the French support the shameful Vichy government ? | Regarding the Vichy government and the behavior of the French, Americans are generally very severe : they like black and white. If your country is occupied by a foreign power you are either AGAINST it (a resistant) or FOR it (a collaborator). In fact, in such a traumatic situation, most people are IN BETWEEN and just try to survive. This is not specifically French, due to a particular weakness of this nation. In the Channel Islands, 25 miles from the French coast, which was the only part of the United Kingdom occupied by Germany, people behaved exactly like the French : very few collaborators, very few heroes, a huge majority of people trying to survive. Read more about life in Paris in WW2 in Rosbottom or Riding and historical facts about the German occupation of France.. |
| Why is "customer service" so mediocre in France ? | Many visitors (and all French people) have stories of poor customer service. The reason is probably rooted in the constant quest for equality, since the French Revolution. If you complain about the service, the answer will probably be "I am not your slave", "I am a citizen like you" etc.... For the French,serving customers is (often) considered as being a servant. |
| Which countries colonized France ? | For historians, France exists as a country (i.e. one power, one army, one culture) since the Middle-Ages only (13th-15th centuries), before, it was more a conglomerate of small kingdoms, with one of them becoming stronger and uniting them.In the French culture, it is considered that France became what it is now when King Clovis (end of the 5th century) became Christian and started uniting the smaller kingdoms around his own. Before, the territory which is now France consisted of many Gallic kingdoms and it was invaded by the Romans (remember Julius Caesar) to become part of the Roman Empire. One can say that it was "colonized" but it was not yet "France". By the way, the Gauls integrated very well into the Roman Empire, adopted its language and its laws, called themselves Romans and never seceded from the Empire (it was the Empire which disintegrated !). You can say that France is a former Italian colony, but this statement would be a very serious anachronism ! In its long history, France has been invaded several times, but never colonized. |
| | More questions ? |
What a paradoxical country! Have you ever wondered how France can be the fourth or fifth industrial power in the world when people take to the streets on a regular basis to go on strike? Or why the streets of this country of wonderous monuments and museums are marred by dog poop? Or, speaking of dogs, why there are large signs in restaurants and butcher shops showing that dogs are not allowed, and dogs are in the restaurants and shops anyway? Or why little French children look (and are) so disciplined in school but when "let loose" are so rowdy? Or why, when you try out your French, people look at you like you're crazy? And the question of all questions: WHY DO THE FRENCH LIKE JERRY LEWIS?!
First question : Are The French Clean ?

Read about Turkish toilets.... and visit a site devoted to public street toilets (!) in Paris

Commenting on this famous painting by David, "Marat, the Revolutionary leader stabbed in his bathtub", a humorist (who? I read it's Mark Twain) said "Too bad, for once, a Frenchman was taking a bath"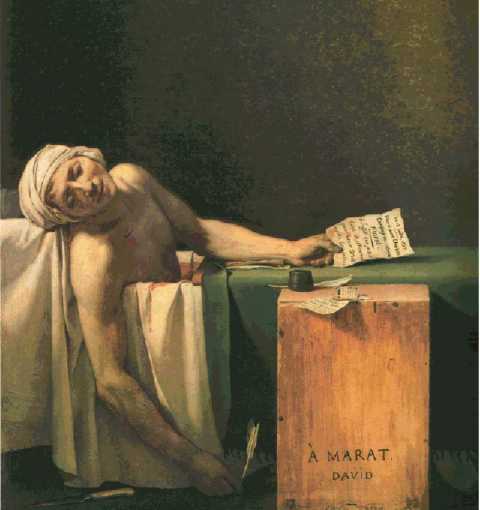 DID YOU KNOW THAT. ? A key-concept to better understand the French : France and the US have a very different vision of friendship. In France, when you are close to someone, you have to share his/her problems and give your opinion : this is being a good friend. You are committed ! Not giving it would be the sign that you do not care about him/her. This is why the French love very animated conversations in which they strongly disagree between themselves, when Americans try to avoid it to protect friendship. With a friend, you can talk freely and express openly your disagreement : it doesn't affect your friendship. This is why the French are sincerely surprised when Americans say :"You disagreed with our foreign policy : therefore, we are not friends". It is also important to know that for the French, if it is more difficult to create a contact, friendship is expected to last longer ! A common idea in France is that, for Americans, friendship is more superficial than for the French and it is difficult to make an American friend : try to make a French friend.
Other questions... (read the answers in this site)
| | |
| --- | --- |
| An excellent book by Pr. Rosbottom to answer questions such as : What was everyday life in 1942? Are the French ferociously anti-Semitic? Was Vichy a Fascist state? Were all Frenchmen resistants from day 1? And many others. | |
You surely have many more questions such as these about France and the French. Harriet has tried to give an answer to some of them in her books. If you have other questions you'd like to have answered, please contact us. Your question might be selected for our "Question of the month" section! See 50 questions on France (US State Department).