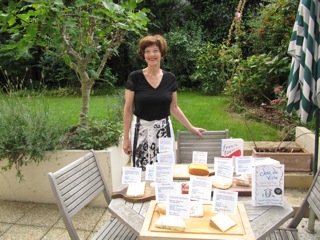 Harriet Welty Rochefort in her Paris "jardin". The table is laden with a delectable offering of cheese
Two formulas enable you to taste and learn about an astonishing variety of French cheeses in the cozy setting of a private home in Paris. France has hundreds of different cheeses and we are proud to offer you a representative sampling with paired wines.
1) Wine and cheese DISCOVERY :
This 3 hour sit down event includes :
a welcome glass of sparkling wine
15 or more different cheeses
6 or more different wines
fresh breads from the bakery,
a sweet and coffee
an oral and written explanation of the wines and cheeses
tips on how to slice various cheeses, when to eat or not eat the rind, etc.

Minimum four participants, maximum eight.
For more details, Contact us.

This wine and cheese DISCOVERY session is ideal both for people who already are familiar with French cheese and wine but desirous to deepen their knowledge and novices who wish to pack a memorable learning experience into their Paris stay.
2) Wine and cheese EXPEDITION :
Shopping and selecting cheese is an art in France. You are the actor in this event which includes :
Ideal for those who are hands on and wish to experience a real slice of French life guided by a Franco-American couple.
Minimum four persons, maximum eight.
For more details, Contact us.
We also hold a wine and cheese event with a tour of the Pere Lachaise cemetery, only five minutes from our home (Click here).
Happy guests say :
I have been organizing tours for English speaking expats for six years , and the cheese tasting (with wine pairings) at Harriet's is always a fantastic hit. Thanks to the charm of their home, and the warmth of this lovely couple, I'll continue scheduling these visits for many years to come. (Julia Geha, Paris)

I love French cheeses and wines and thought I knew plenty about both until I tasted the varieties Philippe, the quintessential Parisian, had selected with great care . . . I was impressed not only with the range of selection, but also with the quality of both the cheeses and the wines. They were magnificent! .. I left enchanted by the hosts, Harriet and Philippe, whose charm and warmth created an intimate ambiance, and I like to think, a glimpse of the Paris I dream of. If this is the kind of experience you seek, you will certainly not be disappointed with this rare opportunity to discover history, flavors, senses, and life inside a Parisian apartment. (Clare Drews, WA)

Thank you for the Wine & Cheese Tasting. It was the highlight of Gary's trip and it was one of the most enjoyable things I've done in the nearly two years I've been in France. You're truly gracious hosts and lovely people, as well as engaging conversationalists . What a memorable afternoon it was. (Randy Lemmerman, Paris, France
(Click here for other endorsements)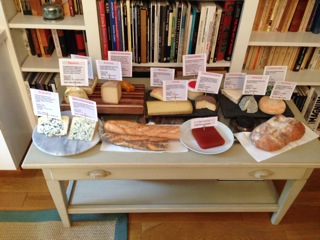 A typical spread of cheeses for the "Discovery"
A word about your hosts

Harriet Welty Rochefort is a longtime resident of France, former journalist and professor of journalism, public speaker and author of three books about the French (see her books). Philippe is a retired international banker who recently earned a Ph.D in History from the Sorbonne (see resume). These private events for small groups are held in their cheerful book-lined garden apartment in an up and coming neighborhood in the east of Paris.
Visit Harriet's site and read about Philippe, the webmaster of this site.